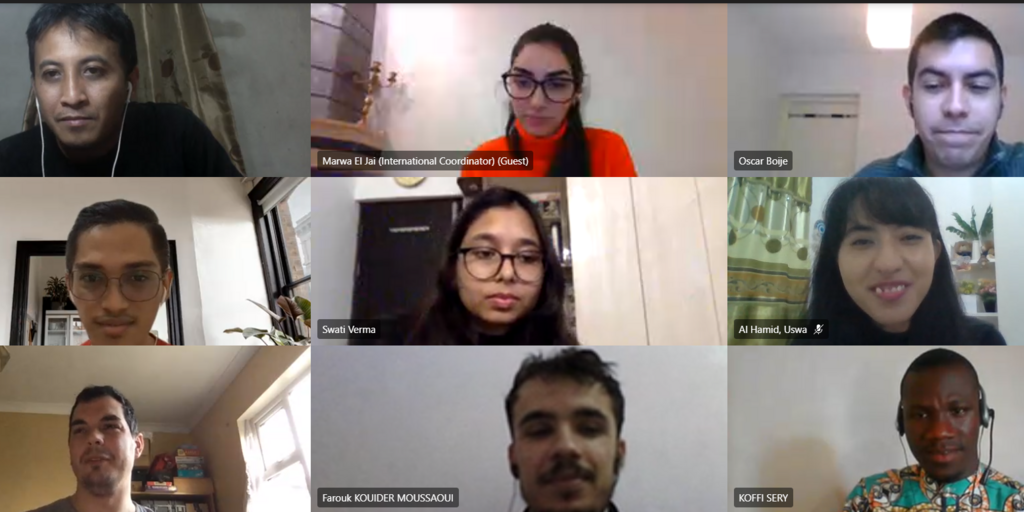 Town Hall Meeting 2021: Candidates for elections answered questions raised by OCEANS members
Last Sunday, 10 January, our three Presidential and two Vice Presidential candidates proved themselves successfully during the virtual Town Hall Meeting moderated by two current OCEANS Board members in preparation for the elections 2021.
What a meeting! On Sunday, 10 January, the three Presidential candidates Swati Verma, Kenny Bayudan and Sery Koffi Felicien as well as the two Vice Presidential candidates Farouk Kouider Moussaoui and Rahmat Putra Yudha presented themselves and answered members' questions in the framework of the Town Hall Meeting 2021. The aim was to give OCEANS members the opportunity to get to know better this year's candidates for the OCEANS Presidential and Vice Presidential elections and to raise all their pressing questions. The latter mainly referred to the candidates' general goals for the network in 2021, their plans to make OCEANS a more independent network and their ideas for digital activities to further cope with the situation of the worldwide pandemic.
As Board member Scott Darby rightly stated at the end of the one and a half our meeting, "all candidates performed incredibly well, and the meeting doesn't make the choice easier at all."
For all those who did not have the opportunity to attend the entirely lively and fruitful Town Hall Meeting 2021, we summarised the candidates' statements und prepared detailed profiles which you can find below. These should help you to get a clear picture of each candidate and to make a thought-out decision before the elections will start on Tuesday, 19 January (until 26 January included*) in the OCEANS Online Community.
Detailed profile of Swati Verma – Presidential candidate
Detailed profile of Kenny Bayudan – Presidential candidate
Detailed profile of Sery Koffi Felicien – Presidential candidate
Detailed profile of Farouk Kouider Moussaoui – Vice Presidential candidate
Detailed profile of Rahmat Putra Yudha – Vice Presidential candidate
Germany, Cologne, 12 January 2021
*to be elected President or Vice President, according to the OCEANS Rules of Procedures, candidates must receive more than 50% of all votes. If this is not the case in the first round, a runoff election will follow and start directly after the first round on 26 January 2021.
---