Daniel Göhring from Austria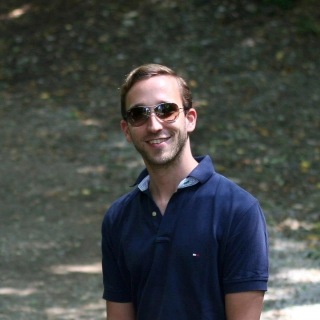 1. What do you currently do?
Daniel: I am currently based in Warsaw, Poland, but work in election observation missions all over the world - I just came back from working 2 months in Kenya as part of the EU's mission there. During my free time here in Warsaw, I currently follow a Polish language class twice a week.

2. What was your favourite OCEANS event?
The best OCEANS event so far was the AGM in New York City, both in terms of the programme and the atmosphere. The speakers and workshops of the conference were really interesting, and the group activities and informal dinners, etc. in NYC were wonderful.

3. How do you spend your weekends?
There's no regular pattern in that, but this weekend we hosted a 'Kenya Welcome-Back' party on Saturday night in Warsaw with a short photoshow accompanied with wines and discussions and on Sunday I spent one of the first warm spring days here outside for brunch, then bicycling, and discovering a new restaurant in the eve (for the Warsaw-based OCEANS members, I can very much recommend it). Next weekend I'll be in Austria, going to the southern Styrian Wine Street with friends.

4. Tell me one thing that your colleagues would be surprised to hear about you.
That I am neither as well organised, nor as serious as it might seem on a first encounter.

5. Tell me about the most memorable OCEANS member you've met.
That's the most tricky question - but next to a quite a number of impressive, funny, and charming personalities forming the OCEANS community, I'd say both Ben and Val, because of their inspiration, unlimited amounts of energy and brilliant ideas for the network. It was a pleasure working with you.

6. What is your guilty pleasure?
Sleeping far too long in the mornings when I have the time to do so.

7. What are you most passionate about?
Development cooperation and the need to eradicate poverty in the poorest regions of the world, especially in Sub Saharan Africa, in order to enable everyone a dignified life.

8. What is your greatest regret?
Not being able to spend as much time as I'd like to with all of my friends and not being able - despite all my efforts - to stay in touch with all the great people I have so far met all over the world.

9. Which talent would you most like to have?
To play a musical instrument well; as I am completely unmusical, it has always been fascinating to see people doing that and all their commitment they put into it.

10. What is your current state of mind?
Relaxed, trying to sort out projects and life in general for the months to come.

11. What is your most treasured possession?
My new super-light bicycle - with this one, you never want to stop as you simply fly over the streets.

12. Where would you want your dream home to be?
That's difficult: It would have to be a major city, preferably in Europe so I can easily fly around and see my friends in different European capitals regularly; then there should be a lot of parks and a lot of 19th-century buildings as I love to rent old-style apartments with thick walls and high ceilings. There should be good restaurants and bars and cinemas there, but it shouldn't be too expensive either. Besides, it shouldn't be too cold, but still close enough to mountains in order to go skiing in Winter. In short, it should be a cultural and culinary Montréal in the heart of Europe. It should have nice apartments and affordable living costs like in Vienna. It should be as cosmopolitan as Brussels. It should have a laid-back and relaxed atmosphere like in Antwerp. It should have the cuisine and the savoir-vivre of Florence, Italy. It should have the mountains of Austria. It should have the artsy scene of Berlin or Warsaw. It should be as close to the wonders of nature as Nairobi. It should be as beautiful as Paris, and as post-modern as London. Any suggestions?

13. Who are your favourite writers?
Too difficult a question, as they change too often. At the moment, I do very much enjoy reading Ken Follett's Fall of Giants and Winter of the World, though these are not work of arts but simply good reads.

14. Your favourite musician?
Again far too difficult to choose - though at the moment, when looking at my CD player, there's a CD called 'Acoustic Africa', then there's 'Rue Ketanou', Ismael Lo's 'Senegal', the new 'Florence and the Machine' and some more waiting to be played.

15. What is your mantra in life?
To try to live a happy life, and to try to contribute as much as possible to my friends being able to have happy lives as well, through organising things together, through advice, and through living up to the expectations of friendship.