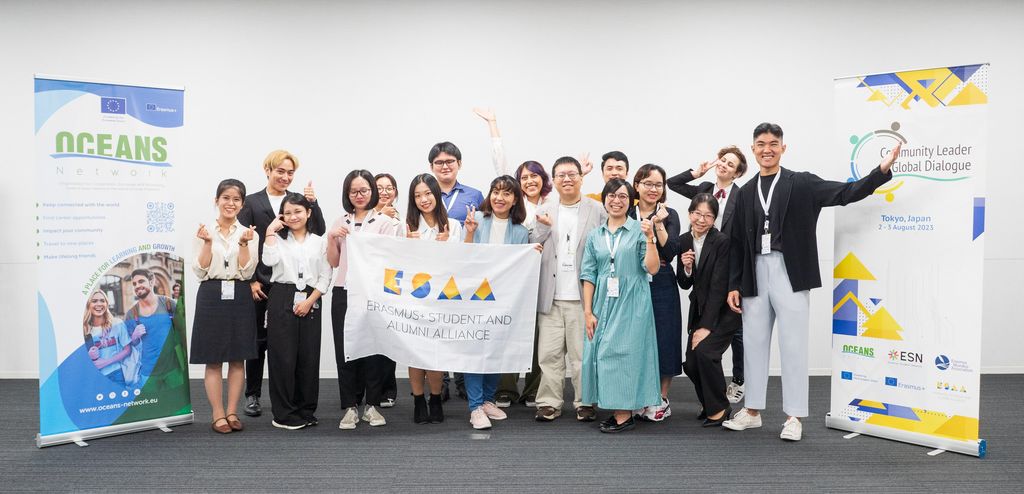 Community Leader Global Dialogue
Community Leader Global Dialogue took place in Tokyo, Japan on 2nd to 3rd August 2023 on the topic Society 5.0. The event gathered 14 promising young leaders from different backgrounds and nationalities. This event was organised by OCEANS Network in partnership with Erasmus Mundus Association (EMA) and Erasmus Student Network (ESN), supported by ESAA and funded by the European Union.
The New Era of Society 5.0 has begun and we live in an era of rapid technological advancement in which science and technology play a significant role for solving various challenges and social problems by utilising various innovations. This is why the role of our young generation in facing the era of Society 5.0 will be important.
Community Leader Global Dialogue was a two day in-person event on 2nd- 3rd August 2023 in Tokyo, Japan. During two days of insightful dialogue, fourteen promising young leaders from different backgrounds and nationalities discussed the current issues related to Society 5.0 and contributed to the UN's Sustainable Development Goals (SDGs) by addressing social challenges and giving solutions to tackle the issue.
This dialogue's agenda boasted of an impressive speaker lineup from both the university side and the company side. The 1st session led by Nari Matshushima, a lecturer at Waseda University, was on the topic of Education and Society, and there were also interactive discussions about international student perspectives related to the problems that foreigners face in Japan and how they relate to education and work. The 2nd session led by Taiga Ogusu, Project Manager at International Edutainment Association, was on the topic of critical thinking and problem solving. During the session, there were also group discussions and presentations related to sustainable Development Goals (SDGs) where the participants shared ideas and solutions for the SDGs issue.
In addition to these inspirational speaker sessions, we are thankful for the enthusiasm and spirit of participants. As diverse thinking comes from diverse thinkers, and diverse thinkers lead to innovative solutions, we hope that the knowledge and connections shared during this event will have a positive impact for a better world.
Uswa Alhamid, Project Coordinator
Edited by Service Provider
Indonesia, Jakarta, 25th August 2023
---