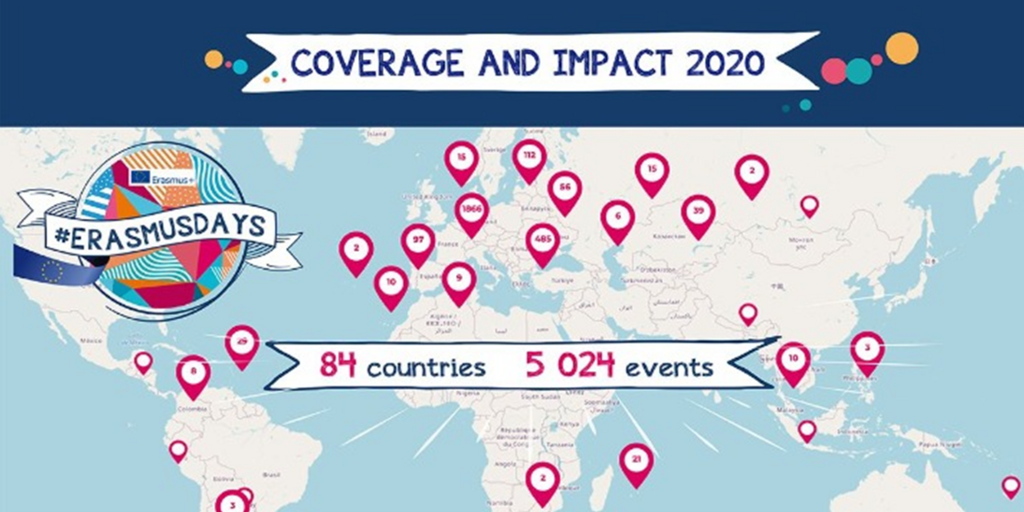 #ErasmusDays2020: Coverage and Impact Report
The report outlines some of the 5 024 inspiring virtual and/or physical initiatives organised during the Erasmus Days 2020 on 15th, 16th, and 17th of October 2020 in 84 different countries all over the world.
"Despite the Covid-19 pandemic affecting people's everyday life around the world, Erasmus+ players all over the world coped with the uncertain sanitary situation and proposed challenging alternatives to citizens for them to keep studying and training abroad. On the 15th, 16th, and 17th of October 2020, 5 024 physical, blended and digital events were held worldwide to celebrate and promote locally Erasmus+ opportunities and mobility experiences."
(Extract from the ErasmusDays 2020 Coverage and Impact Report)
We are happy to report on how actively and successfully the Erasmus+ countries around the world were involved during the #ErasmusDays2020 and would like to share with you the full Coverage and Impact Report for more information on the #ErasmusDays of this year.
Cologne, Germany
14 Dec 2020
---