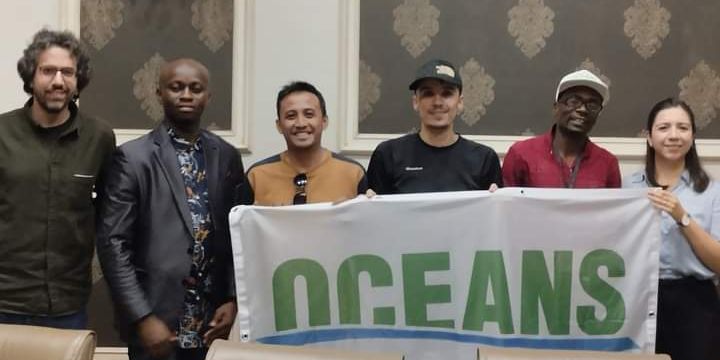 OCEANS Board Meeting Istanbul 2022
The OCEANS Board meeting took place in Istanbul, Turkey, from 29 to 30 October 2022. It was a hybrid meeting with online and onsite participants. The meeting was successful with fruitful inputs regarding OCEANS topics such as strategy and future plans.
The Board meeting started on Saturday 29th with the opening of OCEANS President, Farouk Kouider Moussaoui. The Board reviewed OCEANS activities in 2022: successes, weaknesses, opportunities, and strengths, followed by a report by each Head of Teams of the working plans and milestones of their teams' activities in 2022.
The preparations for the next year's OCEANS Annual General Meeting in terms of logistics and selection criteria were on the table. A timeline in this respect was presented online by Scott Darby on behalf of AGM taskforce. The Board received the feedback regarding AGM location & date, which will take place in Vienna, Austria, from 30 June to 2 July 2023.
On, Saturday afternoon and on Sunday morning, the discussion continued with OCEANS statute. Board members updated the roadmap for OCEANS statute amendment that is planned to be completed by the beginning of the next year and voted by OCEANS members after its dissemination. Moreover, a draft statute was reviewed by the Board and various recommendations were made to the task force leading the amendment process.
Then the Board discussed the upcoming Board elections for the term 2023-2024 and approved a timeline for it. The president and vice-president election process will start with the call for applications on 18 November and will end with the results maximum by 16 December 2022. The elections of the Heads of teams will start on 13 December 2022 and will end with the results maximum by 17 January 2023.
The Board also shared with the Service Provider suggestions and good practices on how the EC resources can be utilised by OCEANS Network and other sister organisations, these ideas will be part of a Code of Conduct that will be integrated in the events in the future.
The ESAA liaison representative, Uswa, attended the meeting online and shared useful input with the Board. OCEANS achieved a remarkable outcome with 10/11 projects approved within the framework of ESAA project calls. The board stressed the importance of building on that and improving projects quality and members' capacities to submit more competitive project proposals in the next ESAA project calls under the theme 'European Year of Skills'.
Farouk Kouider Moussaoui
Edited by Service Provider
Algeria, Khemis-Miliana, 15 Nov 2022
---