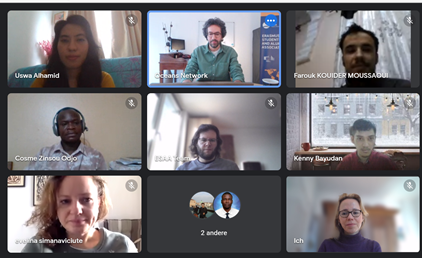 OCEANS Virtual Handover meeting 2022/23
On February 19, 2022, the OCEANS handover meeting for the 2022/23 mandate period was held, and outgoing and incoming OCEANS members shared their plans, ideas, and thoughts on the continued functioning of the network and development strategies.
The OCEANS handover meeting was held online on February 19, 2022.
Both the new and outgoing board members attended the meeting. Through an interactive conversation, many topics related to the current situation and the future of the OCEANS network were discussed.
Based on a presentation by the service provider, the services offered to the network were explained in detail and the participants were given information about ESAA as an umbrella network as well as the working relation with the European Commission, DG EAC and EACEA, the agency responsible for implementation of the framework contract.
Afterwards, the OCEANS president and the other board members discussed the opportunities, challenges, and future development plans of the network. This gave the new members an insight into the expected tasks and contributions to the further development of the network.
In addition, the new board members introduced themselves and shared their ideas and plans for their role on the OCEANS board during their term.
Morteza Etezadibehzadi , Community Manager
Germany, Cologne , 24.02.2022
---