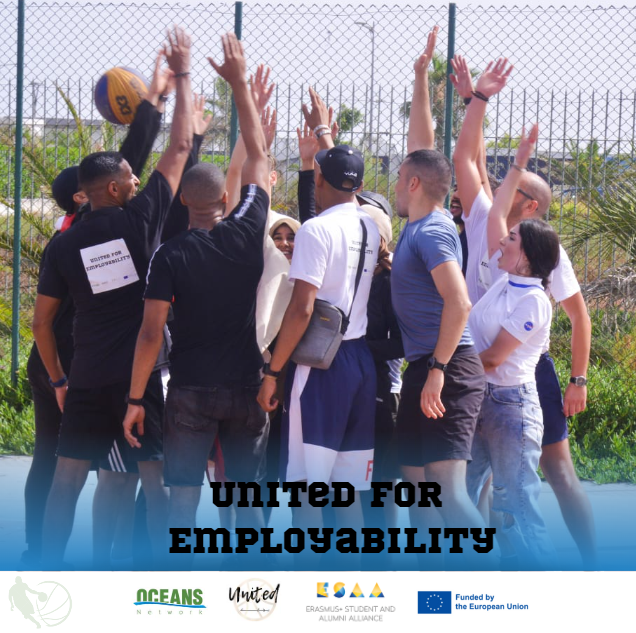 United for employability
Held in the Region of Casablanca, Morocco, from 8 to 10 July 2023, the project "United for employability", held by OCEANS network in partnership with United Morocco and supported by ESAA aimed to empower youth through basketball and soft skills development. Trained by renowned experts, 17 participants developed their skills through a three days program involving lessons and practice.
17 participants, 4 countries, 6 nationalities, united for a common goal: aiming to enhance youth employability and develop essential soft skills through a 3-day training program, the project "United for employability" took place in the Region of Casablanca, Morocco, from 8 to 10 July 2023. It targeted diverse participants, both local and international, offering workshops, group discussions, basketball games, and officiating lessons. By promoting social inclusion and equal access to education, this project contributes to addressing youth unemployment and fostering a more cohesive society. Indeed, by utilising basketball as a means of engagement, the program promotes social inclusion, fosters teamwork, communication, leadership, and entrepreneurship skills.
Organised by OCEANS Network, in partnership with United Maroc, the program was led by renowned experts that provided essential skills to participants through theoretical and practical activities. Fuelled by their wish to bring an intersectional approach to education, engagement, and development, they focused on the transferability of skills between sports, personal and professional life.
Following workshops including a reflexion on the performance objectives versus result objectives as well as a presentation of international mobility opportunities, participants were able to practice through relevant and targeted activities on the court. By exercising mutual trust, playing in teams or individually, and cooperating, all these activities provided us with great examples on how sports is an essential tool of empowerment and skills development while promoting values, friendship, mutual understanding and cohesion.
Learning then sharing, playing and engaging with children to create a cohesive and safe environment, was one of the great highlights of the 3 days program. Indeed, this project being implemented in the eco-city of Zenata, in the region of Casablanca, Morocco, engaging with local people and particularly children was essential.
Stay updated to learn more about our actions here:
- OCEANS Network: https://www.oceans-network.eu/
- United Maroc: https://www.united-maroc.com
We thank Erasmus+ Student and Alumni Alliance (ESAA) for the support in implementing the initiative. Click here for project video.
Leïla Benabdallah
Brussels, Belgium, 25th August 2023
---